---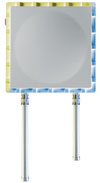 Datasheet: A4
ORiNOCO Wi-Fi Mesh Series
High Capacity Wi-FiR Mesh Delivers Flexible, Scalable, and Reliable Voice and Data for Large Metropolitan and Enterprise Wi-Fi Deployments The dual-radio ORiNOCOR Wi-Fi Mesh Access Points deliver video, voice and data over Wi-Fi to the edge of a network over a flexible, auto-forming, self-healing, near line of sight mesh backbone. The dual-radio architecture separates the mesh backbone traffic from the edge access traffic, increasing capacity compared to single-radio mesh architectures. Seamless integration between ORiNOCO indoor and outdoor mesh access points enables existing indoor Wi-Fi networks to extend outdoors.
---
High Capacity Mesh Access Points Deliver Flexible, Scalable, and Reliable Voice and Data for Large Metropolitan and Enterprise Wi-Fi Deployments
Purpose-built for the metropolitan Wi-Fi market, the ORiNOCO Wi-Fi Mesh Access Points are built on the same reliable software used in ORiNOCO enterprise networks to ensure carrier-quality availability.
The ORiNOCO Mesh Creation Protocol (OMCP) enables mesh backhaul and Wi-Fi coverage on the same radio, while the second radio is used exclusively for Wi-Fi coverage.
Industry-leading throughput with 802.11g and 802.11a simultaneous operation
Robust RADIUS accounting and authorization interface enables detailed subscriber usage tracking
WMM/802.11e quality of service support for data, voice and video
Available in indoor form factor and ruggedized form factor for outdoor deployments
Outdoor models include high power version for extended range
Proactive Security Measures to Protect Your Network
Intra-cell blocking and traffic redirection to prevent subscriber-to-subscriber attacks
Broadcast bandwidth throttling prevents broadcast attacks
Spanning tree protocol prevents network loops caused by subscribers connecting two or more CPE devices together
IEEE 802.1x mutual authentication
Dynamic per-user, per-session rotating keys
Rogue access point detection and notification
Secure management interfaces: SNMPv3, SSL and SSH
Self Forming/Self-Healing Mesh Is Easy to Deploy
Self-forming and self-healing ORiNOCO Mesh Creation Protocol automatically routes traffic through the best path as mesh access points are added or removed from the network
Tools to speed installation and optimization: automatic channel selection, adjustable transmit power, external antenna connectors
Reliable by Design
Robust features for metropolitan Wi-Fi and enterprise applications
Automatic reconfiguration of security policy in the event of power loss
Dual firmware image support íV for rollback in the event of software or configuration change problems
Power-Over-Ethernet support
Optional AC power supply for light pole installations offered for high power, outdoor models
©2008 Copyright Pacific System Solutions Ltd. All rights reserved.