---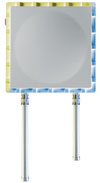 Datasheet: A4
ORiNOCO Public Safety Wi-Fi Mesh Series
High-Performance Mesh Access Points Deliver Scalability for Large Public Safety and Wi-Fi DeploymentsSupporting 4.9 GHz public safety and 2.4 GHz metropolitan Wi-Fi networks through dual 4.9/2.4 GHz radios, Proxim's tri-mode outdoor mesh access points deliver the versatility and feature robustness required by today's demanding emergency response and metro Wi-FiR applications. Delivering unparalleled enterprise-scale security, management and Quality of Service (QoS) features, the ORiNOCOR Public Safety Wi-Fi Mesh Series of access points are preconfigured with tri-mode support for best in class performance and flexibility in large public safety deployments.
---
High-Performance Mesh Access Point Delivers Scalability for Large Public Safety and Wi-Fi Deployments
The ORiNOCO Public Safety Wi-Fi Mesh Series offers a cost-effective, scalable mesh network for large public safety deployments. Available in indoor and outdoor models, the Public Safety Wi-Fi Mesh Series offers versatile installation options for optimal network design. The AP-4000M indoor access pointíŽs small form factor enables installation in building or a vehicle trunk. Housed in a ruggedized enclosure, the AP-4900MR-LR may be deployed outdoors in extreme weather conditions.
The ORiNOCO Mesh Creation Protocol (OMCP) enables mesh backhaul and Wi-Fi coverage on one radio, while the second radio is used exclusively for Wi-Fi coverage
Tri-mode (802.11b/g and 4.9 GHz support) and dual radio AP-to-AP communication for deployment in large or hard to reach areas
Industry-leading throughput with 802.11g and 4.9 GHz simultaneous operation
Robust RADIUS accounting and authorization interface enables detailed subscriber usage tracking
WMM/802.11e draft quality of service support for data, voice, video
Available in indoor form factor and ruggedized form factor for outdoor deployments
Outdoor model includes high power for extended range
Proactive Security Measures to Protect Your Network
IEEE 802.1x mutual authentication
Dynamic per-user, per-session rotating keys
Rogue Access Point and client identification
Secure management interfaces: SNMPv3, SSL and SSH
Intra-cell blocking to prevent client-to-client snooping
Easy to Deploy and Manage
Tools to speed installation and optimization: automatic channel selection, adjustable transmit power, external antenna connectors
ORiNOCO Mesh Creation Protocol for maximum coverage, flexibility, reliability, and lowest infrastructure costs
Wireless repeating functionality in areas without Ethernet wiring
Remote management via SNMP, HTTP and Telnet
Extensive RADIUS accounting support
Reliable by Design
Robust features for enterprise, public access íV compared to consumer grade access points
Automatic reconfiguration of security policy in the event of power loss
Dual firmware image support íV for rollback in the event of software or configuration change problems
Power-Over-Ethernet support
Optional AC power supply for light pole installations offered for outdoor model
©2008 Copyright Pacific System Solutions Ltd. All rights reserved.